Mary Ellen Mark
(born 1940) is an American photographer known for her photojournalism, portraiture, and advertising photography. She has had 16 collections of her work published and has been exhibited at galleries and museums worldwide. She has received numerous accolades, including three Robert F. Kennedy Journalism Awards and three fellowships from the National Endowment for the Arts.
Mary Ellen Mark was born in suburban Philadelphia, Pennsylvania, and began photographing with a Box Brownie camera at age nine. She attended Cheltenham High School, where she was head cheerleader and exhibited a knack for painting and drawing. She received a BFA degree in painting and art history from the University of Pennsylvania in 1962, and a Masters Degree in photojournalism from that university's Annenberg School for Communication in 1964. The following year, Mark received a Fulbright Scholarship to photograph in Turkey for a year. While there, she also traveled to photograph England, Germany, Greece, Italy, and Spain.
In 1966 or 1967, she moved to New York City, where over the next several years she photographed Vietnam War demonstrations, the women's liberation movement, transvestite culture, and Times Square, developing a sensibility, according to one writer, "away from mainstream society and toward its more interesting, often troubled fringes". As Mark explained in 1987, "I'm just interested in people on the edges. I feel an affinity for people who haven't had the best breaks in society. What I want to do more than anything is acknowledge their existence".
Her shooting style ranges from a 2 ¼ inch format, 35 mm, and 4x5 inch view camera. She also uses a Leica 4 for most photographs and Nikons for long-range shooting. Mark loves shooting with a Hasselblad for square format and she shoots primarily in black-and-white, using classic Kodak Tri-X film.
Mark became a unit photographer on movie sets, shooting production stills for films includingFrancis Ford Coppola's Apocalypse Now. For Look magazine, she photographed Federico Fellini shooting his film Satyricon (1969). Mark has since photographed on the sets of more than 100 movies. Mark is well known for establishing strong relationships with her subjects, as she has spoken about after her experiences in the Home for the Dying in Calcutta, and her project "Street Kids" for LIFE Magazine, which developed into the movie Streetwise.
Mark has contributed to publications including the magazines Life, Rolling Stone, The New Yorker, and Vanity Fair and has published over 16 books. Mark's photographs have been exhibited worldwide [via wiki]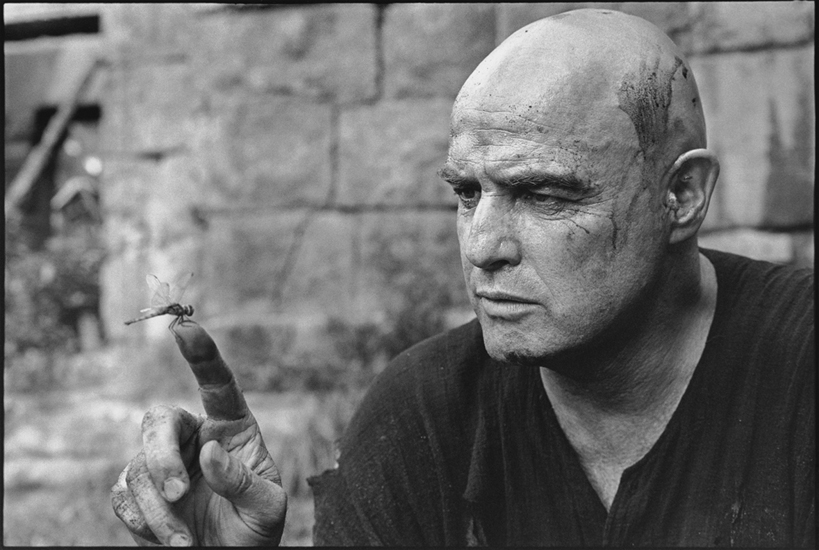 Marlon Brando fascinated by a dragonfly, Apocalypse Now, Pagsanjan, Philippines, 1976
maryellenmark.com
Giuseppe Rotunno with Federico Fellini who pretends to sleep on the set of Fellini's Satyricon, Rome, Italy 1969
Catherine Deneuve
maryellenmark.com
Johnny Depp
Johnny Depp on the set of Sleepy Hollow, Shepperton Studios, England, 1999
maryellenmark.com
Alejandro González Iñárritu directing Cate Blanchett and Brad Pitt, Babel, village near Ouarzazate, Morocco, 2005
Diane Lane and Francis Ford Coppola discuss the next scene on the set of Rumble Fish, Tulsa, Oklahoma, 1982
Michael Clark Duncan and Richard Zanuck, Planet of the Apes, Los Angeles, California, 2000
Jessica Lange and Dustin Hoffman pose for a picture, Tootsie, Hurley, New York 1982
Tim Burton with a severed head prop, Sleepy Hollow, Shepperton Studios, England, 1999
Martin Sheen and Dennis Hopper rehearsing on the set of Apocalypse Now, Pagsanjan, Philippines, 1976
On the set of The Day of the Locust, Los Angeles, California 1974
maryellenmark.com
Nicole Kidman on the set of Australia, Kununurra, Australia, 2007
Robert Downey, Jr. with his son Indio, Fur, Steiner Studios, Brooklyn, New York, 2005
Melanie Griffith and Don Johnson together on the beach, Night Moves, Sanibel Island, Florida, 1973
A stunt elephant, Honky Tonk Freeway, Sarasota, Florida, 1980
Jack Nicholson, Candice Bergen, Art Garfunkel "French kissing". Carnal Knowledge, Vancouver, BC, Canada 1970
Dennis Hopper
maryellenmark.com
Woody Allen on his balcony, Manhattan, NY, 1979
Benicio Del Toro practices smoking a cigar on the set of The Argentine, San Juan, Puerto Rico, 2007
James Cagney on the set of Ragtime, London, 1981
maryellenmark.com
maryellenmark.com
maryellenmark.com
maryellenmark.com
maryellenmark.com
You have read this article black and white / celebrity photographer / documentary photographer / mamiya 7 / MARY ELLEN MARK / on-set stills / Profoto / STREET PHOTOGRAPHY / tri-x with the title Photographer Profile ~ Mary Ellen Mark. You can bookmark this page URL http://nikiinwonderland.blogspot.com/2012/02/photographer-profile-mary-ellen-mark.html. Thanks!